Sustainability
Solar
Ponohouse was designed from from first principles to be an energy efficient home. The sweeping roof and extensive overhangs provide shade from the mid-day sun, and the thick ceramic blue tile roof efficiently sheds heat and insulates the rooms under it.
A large photovoltaic system supplies the bulk of the power. The system is grid connected and uses Enphase micro-inverters for optimum efficiency.The Ponohouse PV system was purchased outright, there is no lease or other constraint. The hot water is solar heated with a large collector system hidden over the garage.
The swimming pool is solar heated, and the pump is an efficient variable speed system. It's a salt water pool with a catalytic chlorinator
Permaculture
The extensive gardens are both beautiful, and largely edible! The mature gardens generally require no watering. An irrigation system is installed, but other than annual testing has not been used for the last six years.
Edibles include coconuts, bananas, starfruit, Hawaiian peppers, Cara Cara orange, grapefruit, lime, Meyer lemon, kaffir lime, avocado, kumquat, allspice, medicinal and culinary herbs, and more. Everything grows here at an insane rate. Gardening consists mostly of thinning and reducing. Our citrus trees bear fruit several times per year. There's always fruit to pick.
Energy Efficiency
With no heating or air conditioning system required, it's relatively easy to be energy efficient. Most of the lights at Ponohouse are LED. The largest load is our electric vehicle, the perfect car for Maui. The garage includes a high-power Siemens EV charging station. While the cost of energy might seem a trivial expense for a person contemplating a multi-million dollar property, it's still deeply satisfying to pay utility and water bills of less than a hundred bucks while people with similar sized homes on the South and West side are paying more than a thousand per month.
The large Ponohouse gardens take a fraction of the irrigation that even sparse ornamental plantings require on the south side. Mature plantings, permaculture practices plus evening rains make all the difference.
location, location....
What constitutes a perfect location? The west side and south sides are where most visitors go--the hotels are there. But it's crowded, busy, and on Maui there are no private beaches, so that means people walking by your windows at any time. Beachfront also means wind and salt spray creating an overwhelming maintenance headache. Ponohouse is on the inside curve of a deep gulch, with an uninterrupted panoramic view of Uaoa Bay. Ideally situated for a spectacular 180 degree ocean view, without exposure to salt spray. The tradewinds are buffered by the mango forests and our mature gardens and mock orange hedges. The perfection of the Ponohouse location is probably impossible to reproduce today. There are other high-end homes built on the horns of the gulch, but the slightly closer view comes at the cost of unbuffered tradewinds which blow almost every day, often reaching 25+ mph. At Ponohouse those same tradewinds cool the house and ruffle the palm trees.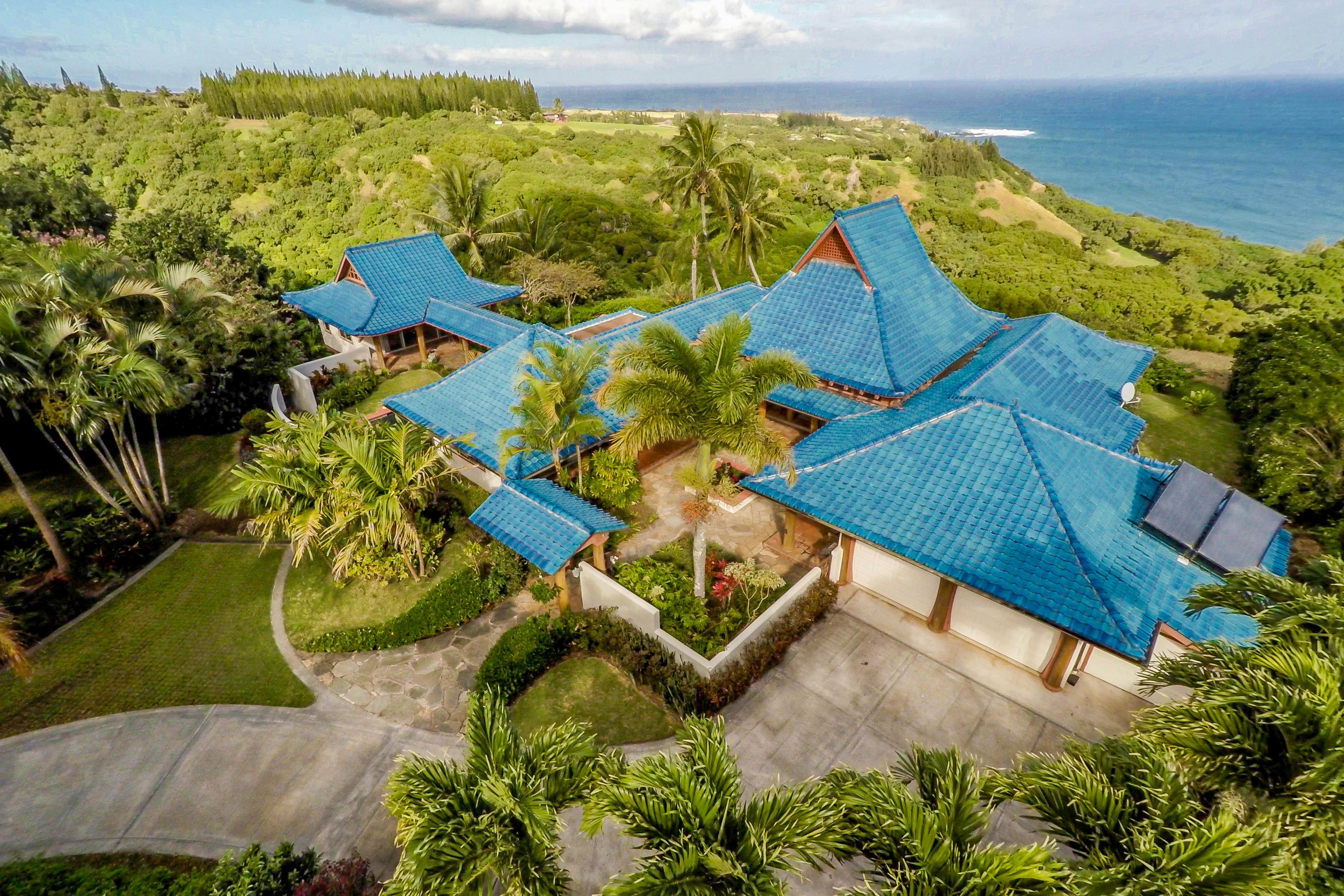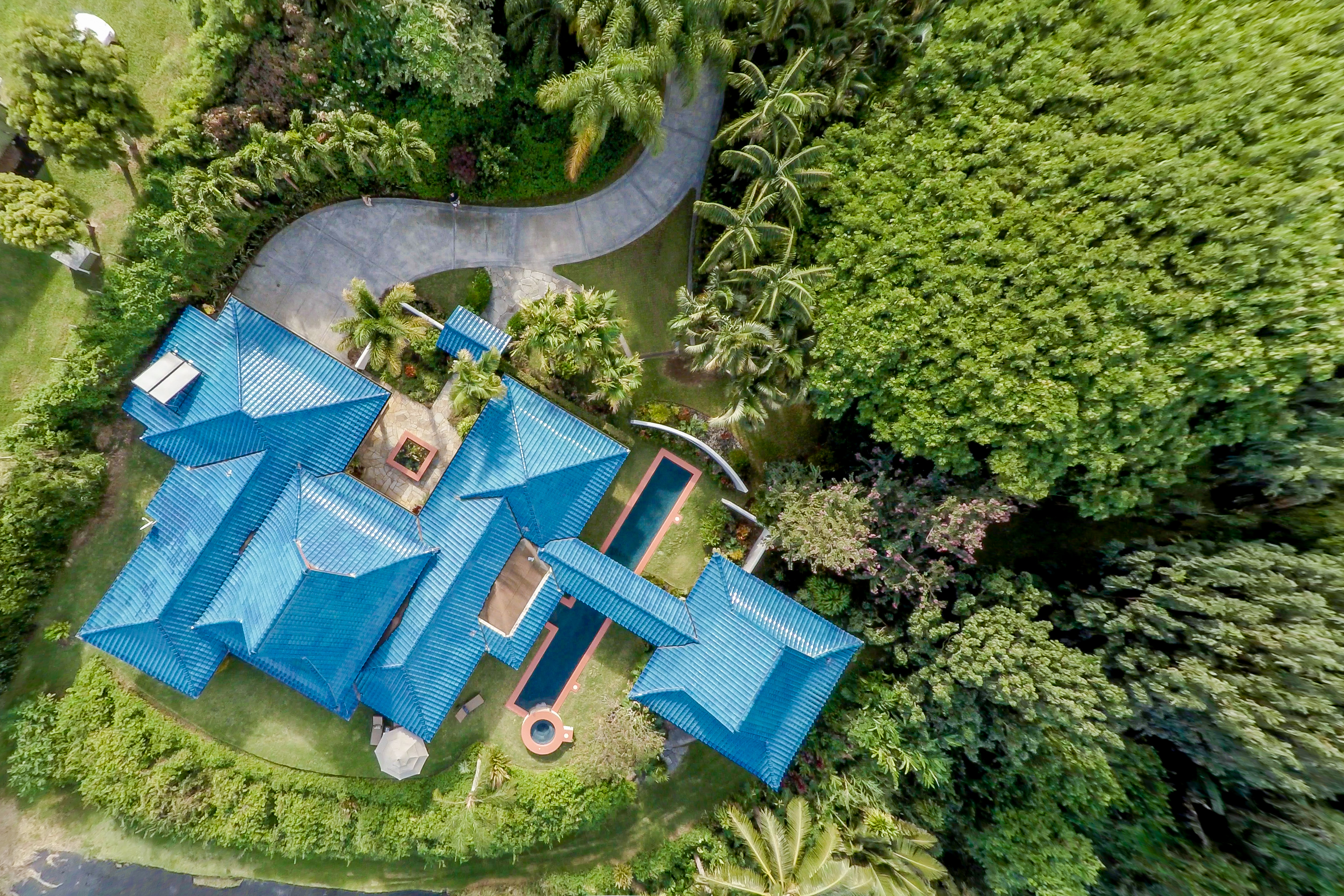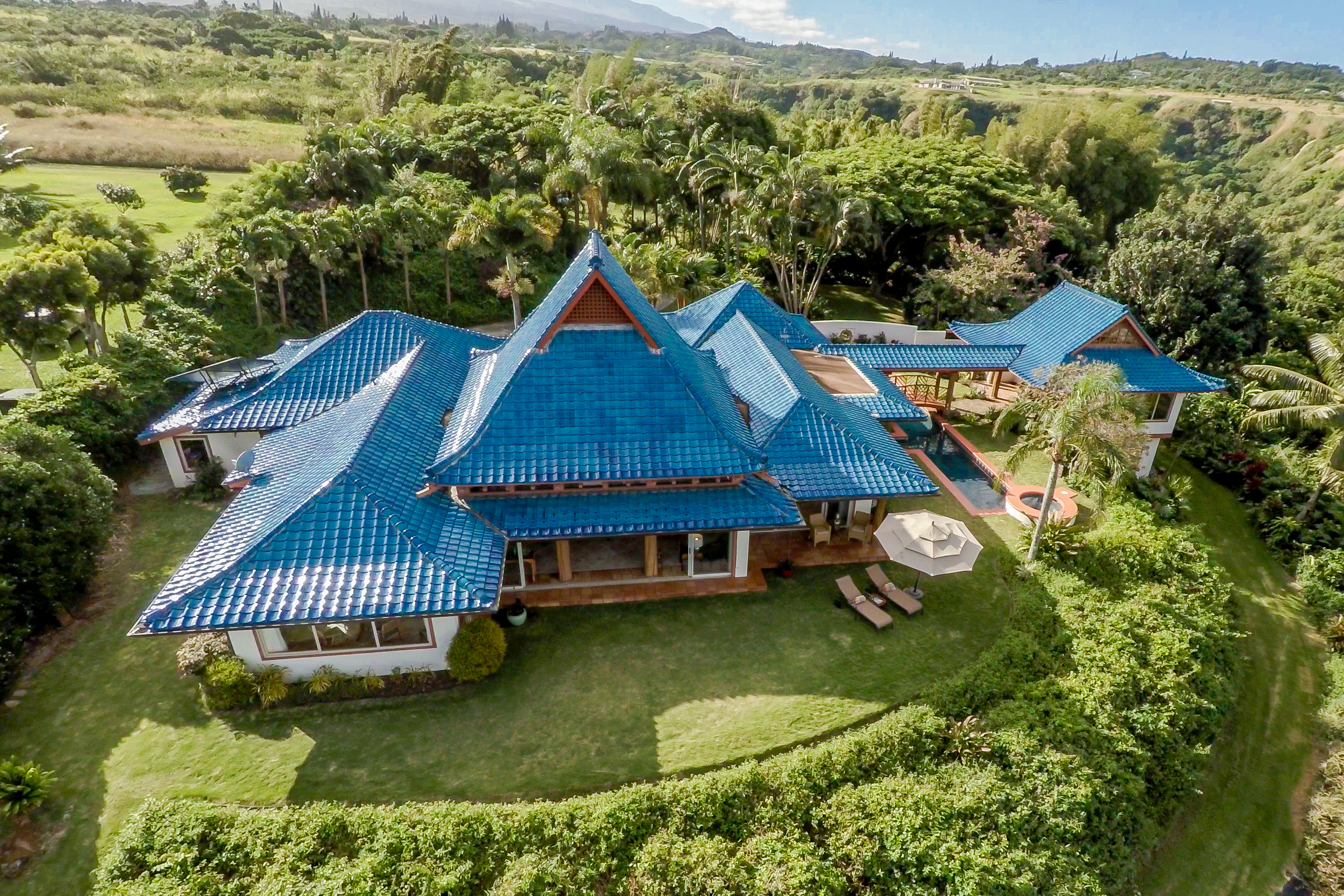 Home As Art
It's surprising to find how perceptive people are when they first visit Ponohouse. They say "it's like a piece of art". That's because it is. Ponohouse was conceived by dutch artist Ari Vandershoot. She commissioned a fine local architect to transform her concepts to workable, functional design, but Ponohouse was first and foremost an art project. Not only was the house built as art, it was built for art. The bedroom across the bridge was originally a studio (with a bathroom and sink, which made it easy to repurpose as a bedroom). Which explains the heavy wiring and 240 volt outlets outside the room, intended to plug in an electric kiln. The high roof-peak windows provide beautiful light, and the wall of windows facing the ocean offers inspiration. It's one of the best views at Ponohouse. The garage also has heavy duty wiring and 240 volt outlets to support welding or a kiln in the workspace. Of course anyone who wants a studio as part of their home will have any easy time converting back. Our conversion was just adding finer finishes and moving in furniture.
The Studio, Now used as a third bedroom
All we added was the tile floor and furniture
It makes for a beautiful bedroom with bath, and can easily convert to a studio again. 
Contact
Our realtor for Ponohouse is: Rhonda Smith-Sanchez Coldwell Banker Inteernational Luxury, Maui, Hawaii Cell: (808) 205-2175 Email: Rhonda@RhondaMaui.com If you have questions, please fill out the form below. It will be emailed to us and we will answer as soon as possible.